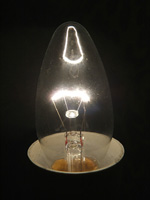 Our eyes can detect only a tiny part of the electromagnetic spectrum, called visible light.
This means that there's a great deal happening around us that we're simply not aware of, unless we have instruments to detect it.
Light waves are given off by anything that's hot enough to glow.
This is how light bulbs work - an electric current heats the lamp filament to around 3,000 degrees, and it glows white-hot.
The surface of the Sun is around 5,600 degrees, and it gives off a great deal of light.