Apart from remote controls, one of the most common modern uses for IR is in the field of security.
"Passive Infra-Red" (PIR) detectors are used in burglar alarm systems, and to control the security lighting that many people have fitted outside their houses.
These detect the Infra-Red emitted by people and animals.
You've probably seen TV programmes in which police helicopters track criminals at night, using "thermal imaging" cameras which can see in the dark.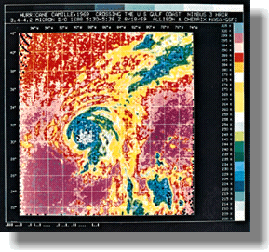 These cameras use Infra-Red waves instead of "ordinary" light, which is why people look bright in these pictures. Similar cameras are also used by fire crews and other rescue workers, to find people trapped in rubble.
Weather forecasters use satellite pictures to see what's heading our way. Some of the images they use are taken using IR cameras, because they show cloud and rain patterns more clearly.