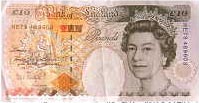 Uses for UV light include getting a sun tan, detecting forged bank notes in shops, and hardening some types of dental filling.
You also see UV lamps in clubs, where they make your clothes glow. This happens because substances in washing powder "fluoresce" when UV light strikes them - they absorb the UV and then re-radiate the energy at a longer wavelength. The lamps are sometimes called "blacklights" because we can't see the UV coming from them.
When you mark your posessions with a security marker pen, the ink is invisible unless you shine a UV lamp at it.
Ultraviolet rays can be used to kill microbes. Hospitals use UV lamps to sterilise surgical equipment and the air in operating theatres. Food and drug companies also use UV lamps to sterilise their products.
Suitable doses of Ultraviolet rays cause the body to produce vitamin D, and this is used by doctors to treat vitamin D deficiency and some skin disorders.