Radioactivity is particularly damaging to rapidly dividing cells, such as cancer cells.
This also explains why damage is done by radiotherapy to other rapidly dividing cells in the body such as the stomach lining (hence nausea), hair follicles (hair tends to fall out), and a growing foetus (not because of mutations, but simply major damage to the baby's rapidly dividing cells).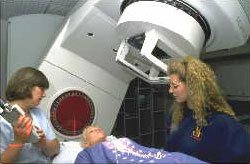 Tracers:
Doctors can put slightly radioactive substances into a patient's body, then scan the patient to detect the gamma rays and build up a picture of what's going on inside the patient.
This is very useful because they can see the body processes actually working, rather than just looking at still pictures.